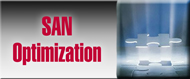 We offer SAN optimization consulting services to increase the productivity of storage networks. Along with application tuning, we utilize the VersaCache and server memory to remove application performance bottlenecks thereby significantly increasing the performance and capacity utilization of storage networks.
We have partnered with Sun Microsystems to offer mainframe rehosting services. Migrating mainframe applications to Sun open systems servers can reduce annual hardware and software costs by as much as 75 percent. Typical return on investment is less than 24 months while customers benefit from greater flexibility, scalability and often performance.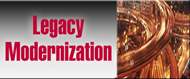 Our legacy application modernization services migrate legacy software applications to modern architectures using an automated toolset. Applications developed in DB2/Cobol, Adabas/Natural, Ingres, Informix, Sybase, IMS, IDMS, MS Access, MS Sequel, and others can be transformed into multi-tiered applications based on the J2EE architecture.